When it comes to cross-platform app development, Flutter stands out as an excellent choice. In a nutshell, Flutter enables the creation of high-quality apps that boast fast performance, appealing interfaces, and reasonable investments. A plethora of successful apps, some of which we've explored in a previous article, "Top Famous Apps Built with Flutter Framework", have been built using Flutter.
But with so many Flutter app development companies available in 2023, how do you find the best fit for your project? In this article, we will explore the top Flutter app development companies that have profound knowledge and extensive project experience in Flutter development.  
We've meticulously examined several key parameters, including location, hourly rate, minimum project budget, portfolio, and client ratings from reputable sources such as Clutch. So, let's dive in.
1.  What the Flutter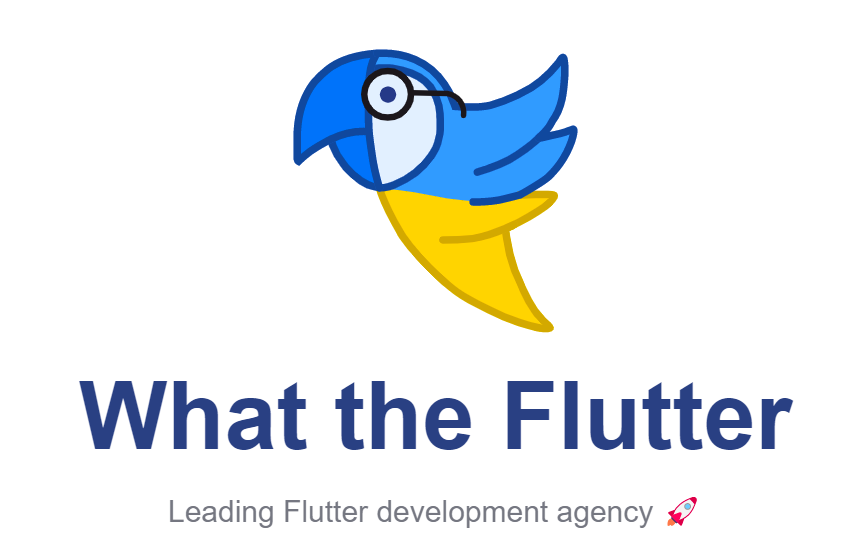 What the Flutter, based in Estonia, is the best flutter app development company with excellent expertise in Flutter and Mobile technology. Their passionate team of skilled engineers is dedicated to create high-quality custom cross-platform apps for startups and SMEs.
The company actively supports the Flutter community through the creation of open-source projects (packages, plugins, demos, etc.) and sharing valuable media content across various social platforms, including LinkedIn, YouTube, Medium, and more. What the Flutter handles every aspect related to cross-platform apps to help businesses grow better.
Website: https://flutter.wtf/
Location: Tallinn, Estonia
Hourly rate: $25 - $49
Minimum project budget: $10 000
Clutch rating: 5.0
Industry focus: FinTech, Healthcare, EdTech, Media & Entertainment, Transportation.
2. SolveIt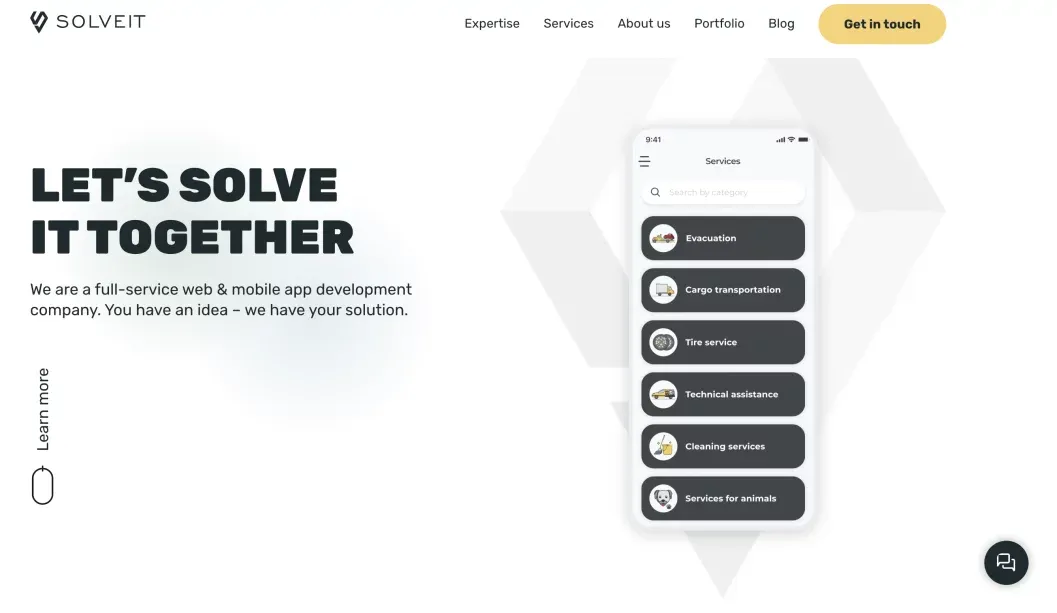 SolveIt, a Flutter app development firm situated in Poland, has a demonstrable track record in crafting mobile applications. The company stands out for creating compelling apps with user-friendly designs, largely leveraging the Flutter framework for cross-platform development.
The company's reputation is built on the great quality of their solutions and project management. Catering to startups and SMEs, SolveIt maintains fair pricing, with a consistent record of timely and budget-respectful delivery.
Website: https://solveit.dev/
Location: Warsaw, Poland
Hourly rate: $25 - $49
Minimum project budget: $25 000
Clutch rating: 5.0
Industry focus: E-commerce, On-demand services, Healthcare, Media, Fintech, IT services.
3. Surf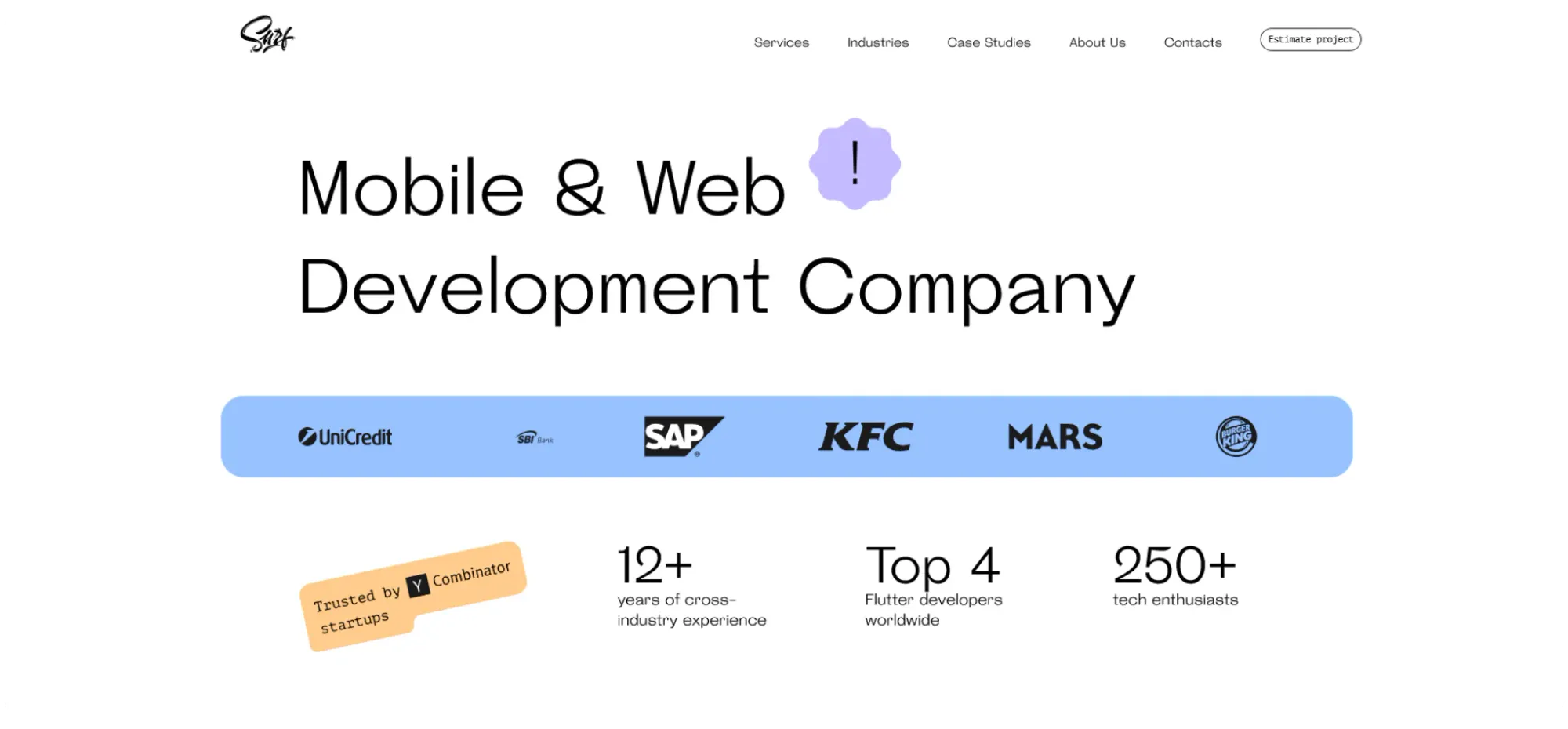 Surf has been harnessing the power of Flutter for app creation since 2019. They provide a range of services aimed at fintech, medtech, foodtech, and e-commerce businesses, consistently crafting innovative IT products that stand the test of time.
Within the fintech sector, Surf has produced mobile applications for startups associated with Y Combinator and Société Générale. They've also extended their services into the healthcare sector with Wellacy Health, a digital health entity, being one of their clients. Further demonstrating their versatility, Surf has developed Flutter-driven mobile and web applications for MARS, and a bespoke ERP system for KFC.
Website: https://surf.dev/
Location: Wilmington, United States
Hourly rate: $50 - $99
Minimum project budget: $100 000
Clutch rating: 5.0
Industry focus: Fintech, E-commerce, Healthcare, Foodtech, Entertainment.
4. Codigee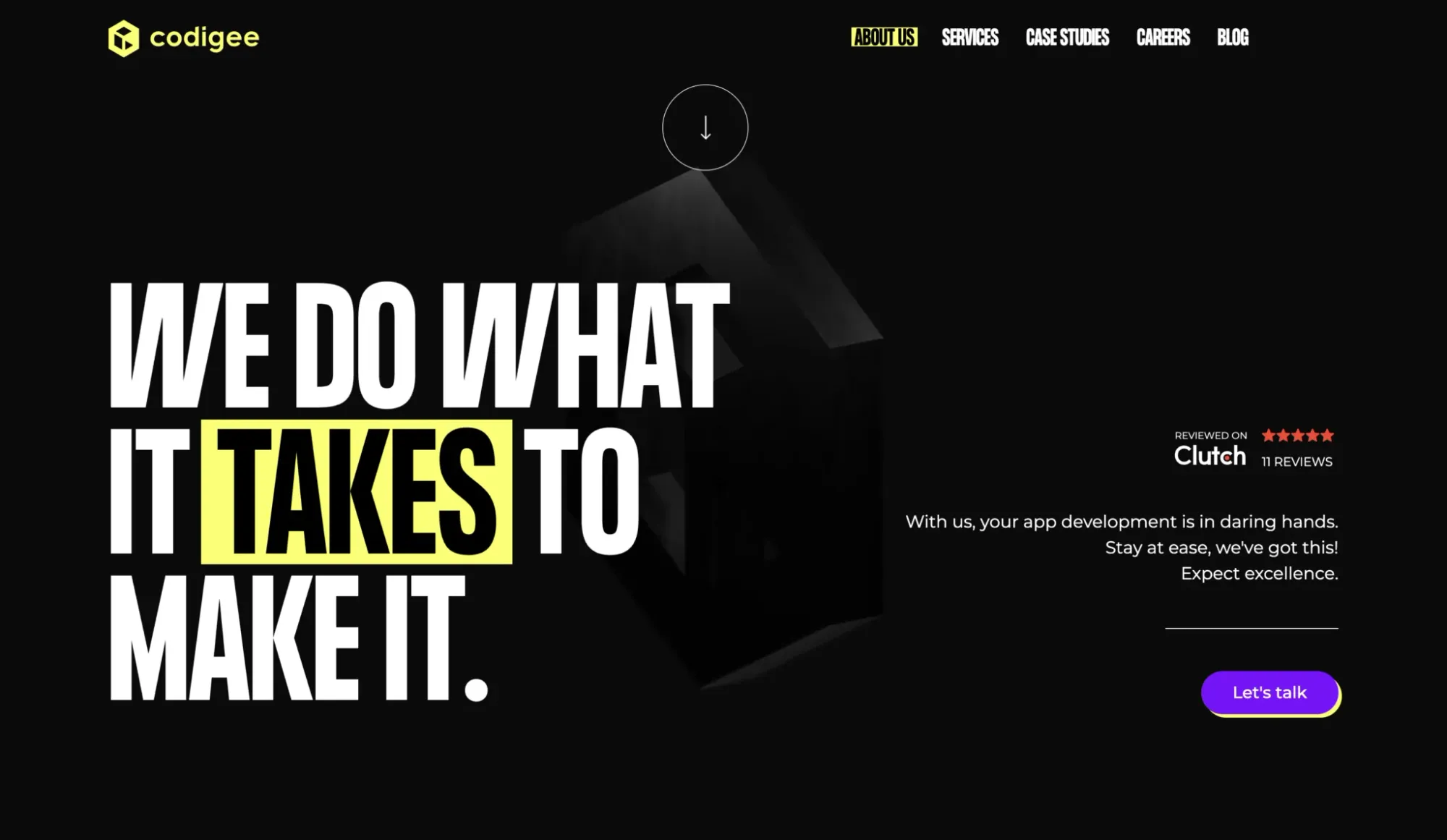 Codigee is a Poland-based company that specializes in Flutter app development. They have been devoted to creating solutions using Flutter since their inception in 2019.
Their primary focus is on providing services to startups and SMEs, with a commitment to affordable pricing and timely, budget-conscious project completion. Codigee has a strong reputation for its project management methods, which are instrumental in achieving great outcomes and keeping clients happy.
Website: https://codigee.com/
Location: Poznań, Poland
Hourly rate: $25 - $49
Minimum project budget: $10 000
Clutch rating: 5.0
Industry focus: Real estate, Education, Entertainment, Energy.
5. AppStudio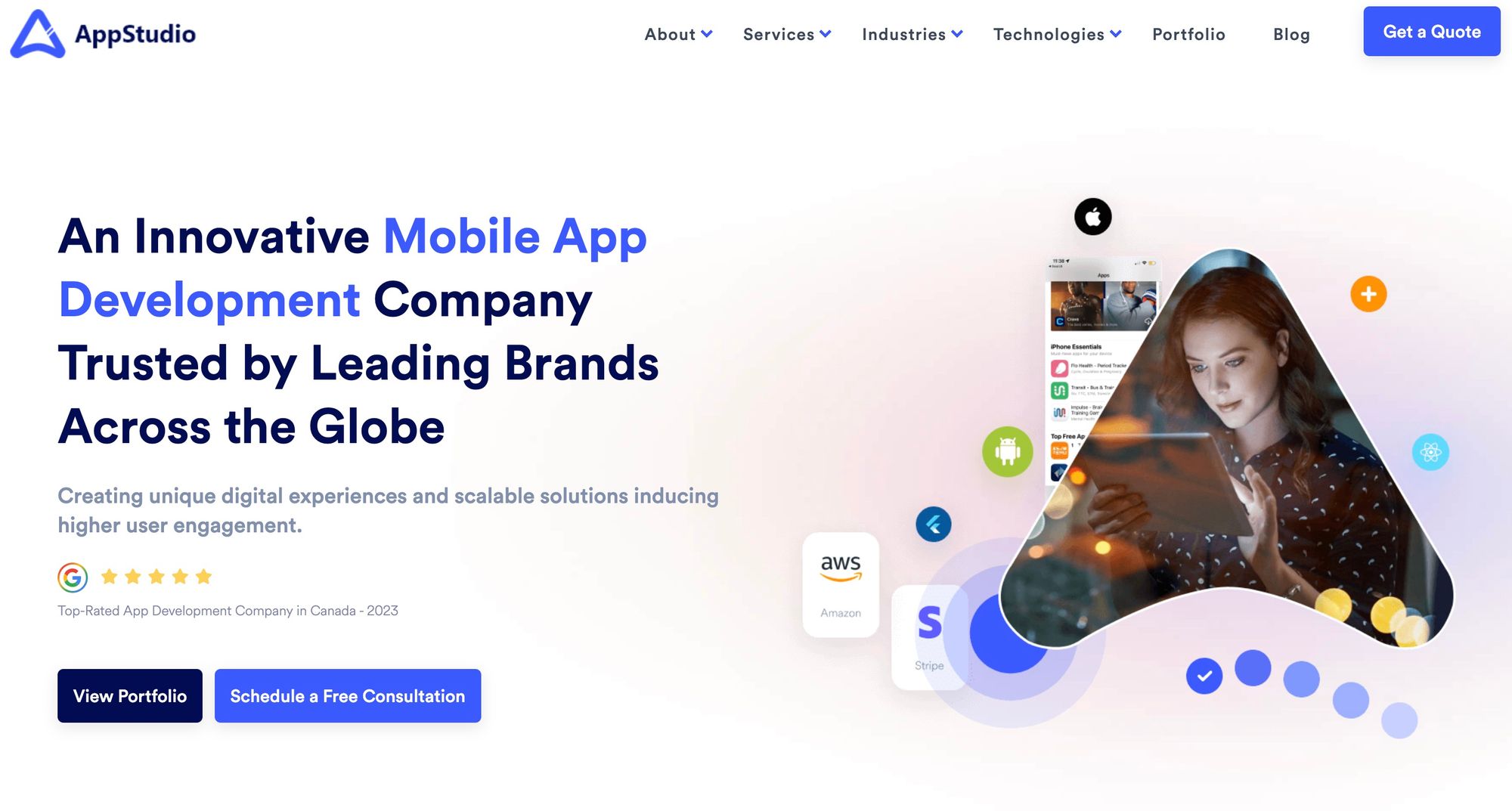 Headquartered in Toronto, Canada, AppStudio has been trusted by many businesses to launch their mobile apps. They specialize in creating cross-platform mobile apps, with a strong focus on sculpting user-centric UI/UX and deploying powerful technology stacks.
AppStudio's team includes full-stack mobile app developers, designers and UI/UX experts, business analysts, solution architects, and project managers.
Website: https://www.appstudio.ca/
Location: Toronto, Canada
Hourly rate: $50 - $99
Minimum project budget: $25 000
Clutch rating: 4.9
Industry focus: Health Care, FinTech, Education, eCommerce.
6. ItCraft

ItCraft is a Polish Flutter app development company that supports both established businesses and promising startups. They deliver cross-platform digital solutions to a wide spectrum of brands. ItCraft covers all the necessary areas of building a great digital product.
Their most notable collaboration involved working with the delivery firm DHL. ItCraft created a comprehensive database for DHL's vendors and employees, which greatly enhanced the efficiency of operations and the general workflow across all branches.
Website: https://itcraftapps.com/
Location: Warszawa, Poland
Hourly rate: $50 - $99
Minimum project budget: $25 000
Clutch rating: 5.0
Industry focus: Health Care, FinTech, Logistics, Telecommunications, IT Services.
7. Cheesecake Labs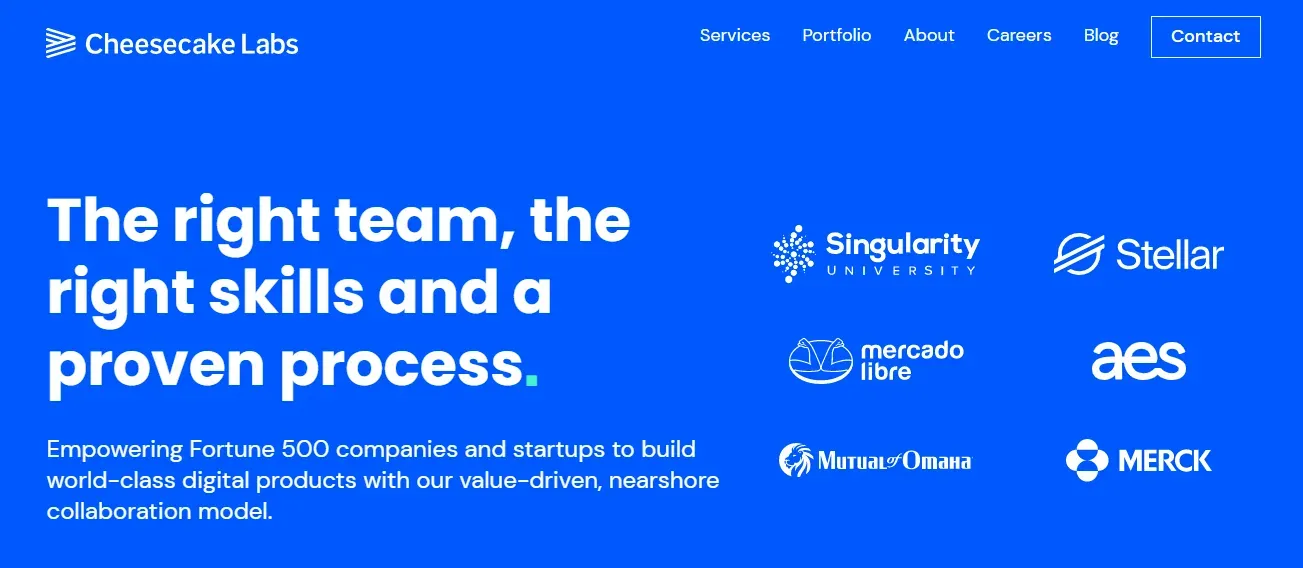 Cheesecake Labs is a software design and development company that delivers great digital products with a value-driven, nearshore collaboration model.
With 10 years of experience and a team of 100+ employees, the company specializes in mobile and web development, including emerging techs such as Blockchain, Web3, Voice, AR, and IoT.
Website: https://cheesecakelabs.com/
Location: San Francisco, United States
Hourly rate: $50 - $99
Minimum project budget: $25 000
Clutch rating: 4.9
Industry focus: Health Care, FinTech, Education, eCommerce.
8. Aloa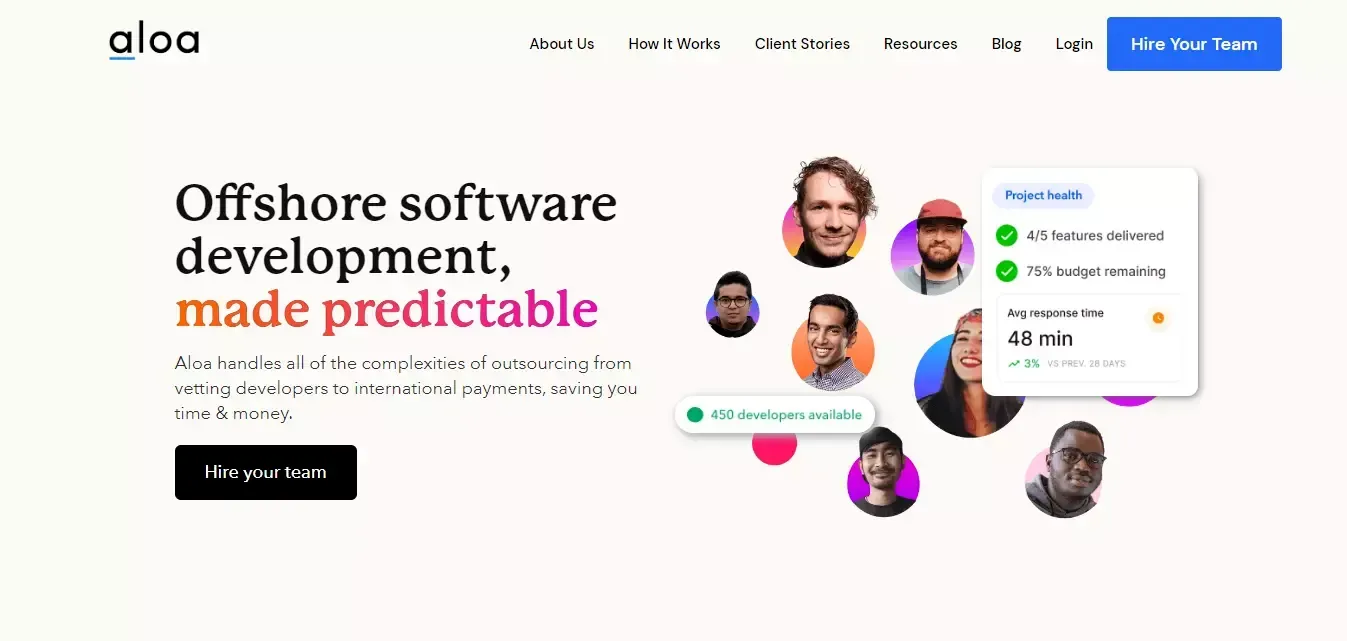 Aloa is a New York-based app development company. Their goal is to bring transparency, accountability, and humanity to software development. Aloa handles all of the complexities of outsourcing from vetting developers to international payments.
They have created a suite of software tools that streamlines and automates the boring and tedious tasks related to software development management and payment.
Website: https://aloa.co/
Location: Irving, United States
Hourly rate: $50 - $99
Minimum project budget: $1 000
Clutch rating: 4.9
Industry focus: Health Care, FinTech, Entertainment, Education, Consumer Products.
9. Cleveroad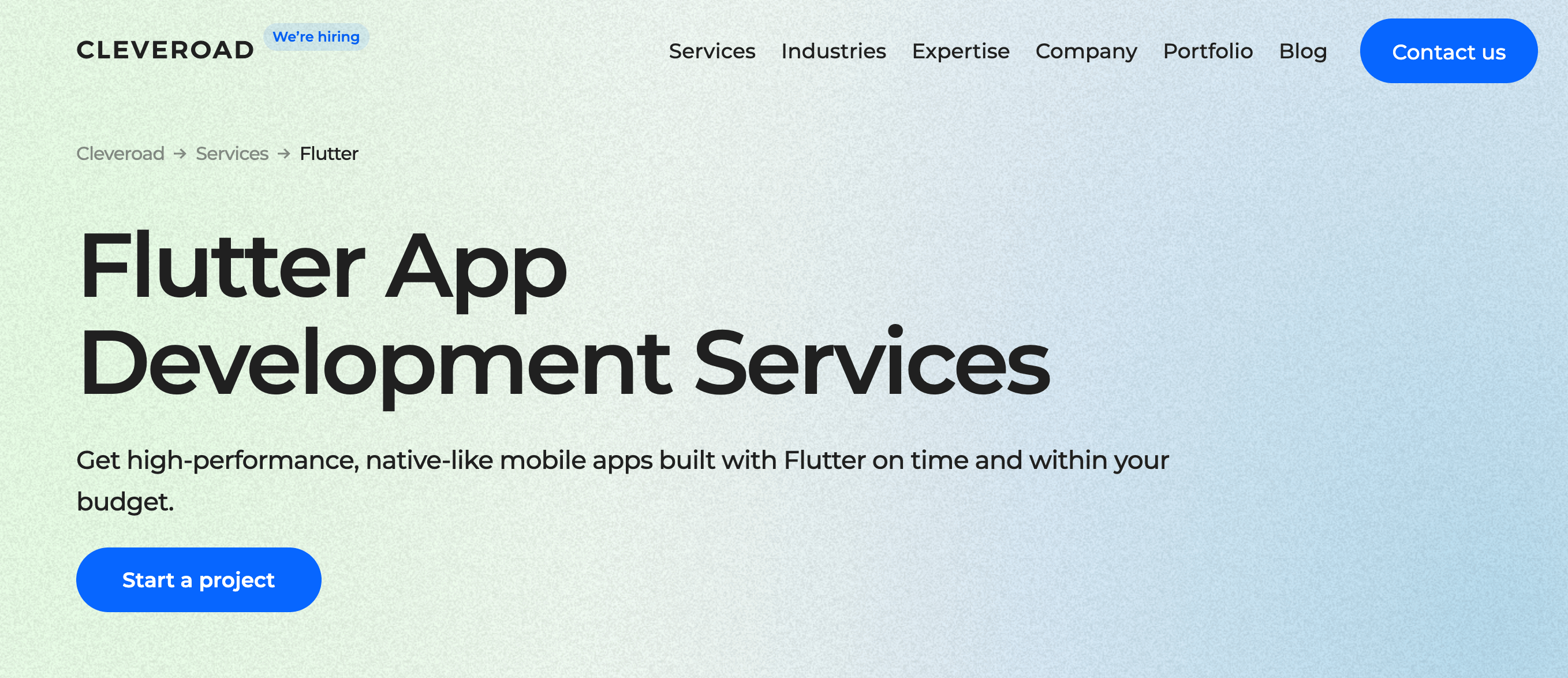 Cleveroad is a software development company with offices in Ukraine and the USA. The company is experienced in iOS and Android development, web development, and Flutter development.
Dealing with business segments, startups and private clients, Cleveroad applies advanced technologies that let businesses grow. Their initial goal is to make the clients confident of quality. They immerse into client's business challenges and involve them in the process as soon as possible.
Website: https://www.cleveroad.com/
Location: Kharkiv, Ukraine
Hourly rate: $25 - $49
Minimum project budget: $10 000
Clutch rating: 4.9
Industry focus: Health Care, FinTech, Education, Logistics, Traveling.
10. Very Good Ventures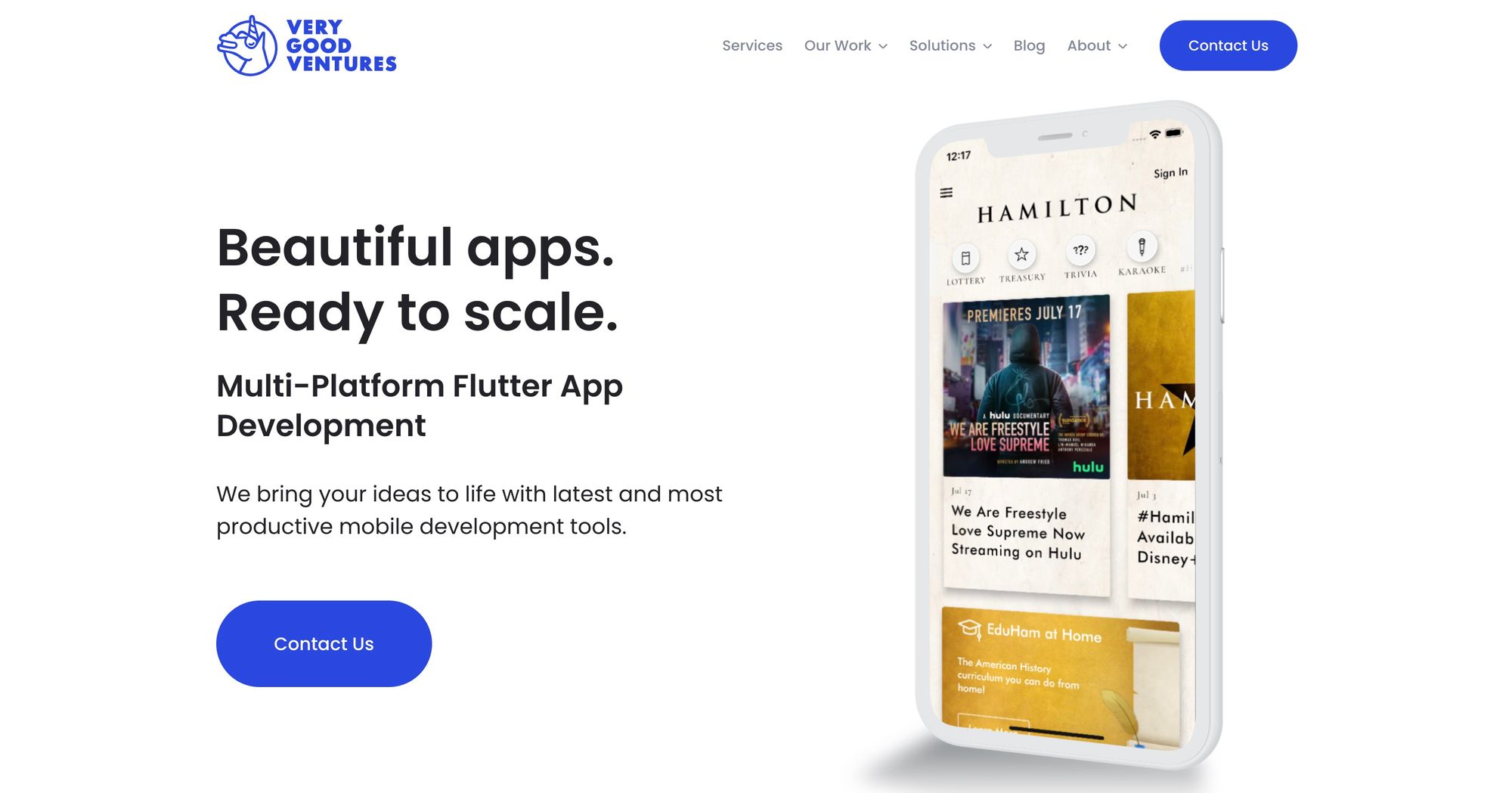 Very Good Ventures is a Flutter development company with offices in New York City and Chicago. With their experienced development team, the company's goal is to help the global technology community embrace best practices for Flutter at scale.
Very Good Ventures provide full-service app development and help companies adopt Flutter. They also build successful apps, train teams of all sizes, and provide expertise through code review and one-on-one advisory hours.
Website: https://verygood.ventures/
Location: New York, United States
Hourly rate: $150 - $199
Minimum project budget: $100 000
Clutch rating: 5.0
Industry focus: Marketing, Entertainment, Consumer Products, FinTech, Gaming.
11. Aubergine Solutions
Aubergine Solutions is an end-to-end mobile development company based in India. They strive to translate disruptive ideas into reality with products that address the needs of businesses and users alike. The company believes in making a difference through thoughtful application of Design and Technology to client's unique needs.
The team consists of user-centric designers and passionate coders. At their core, Aubergine is fusing quality and innovation to create great digital solutions.
Website: https://auberginesolutions.com/
Location: Kharadi Pune, India
Hourly rate: $25 - $49
Minimum project budget: $10 000
Clutch rating: 4.9
Industry focus: Education, Health Care, FinTech, Consumer Products, Media.
12. TechAhead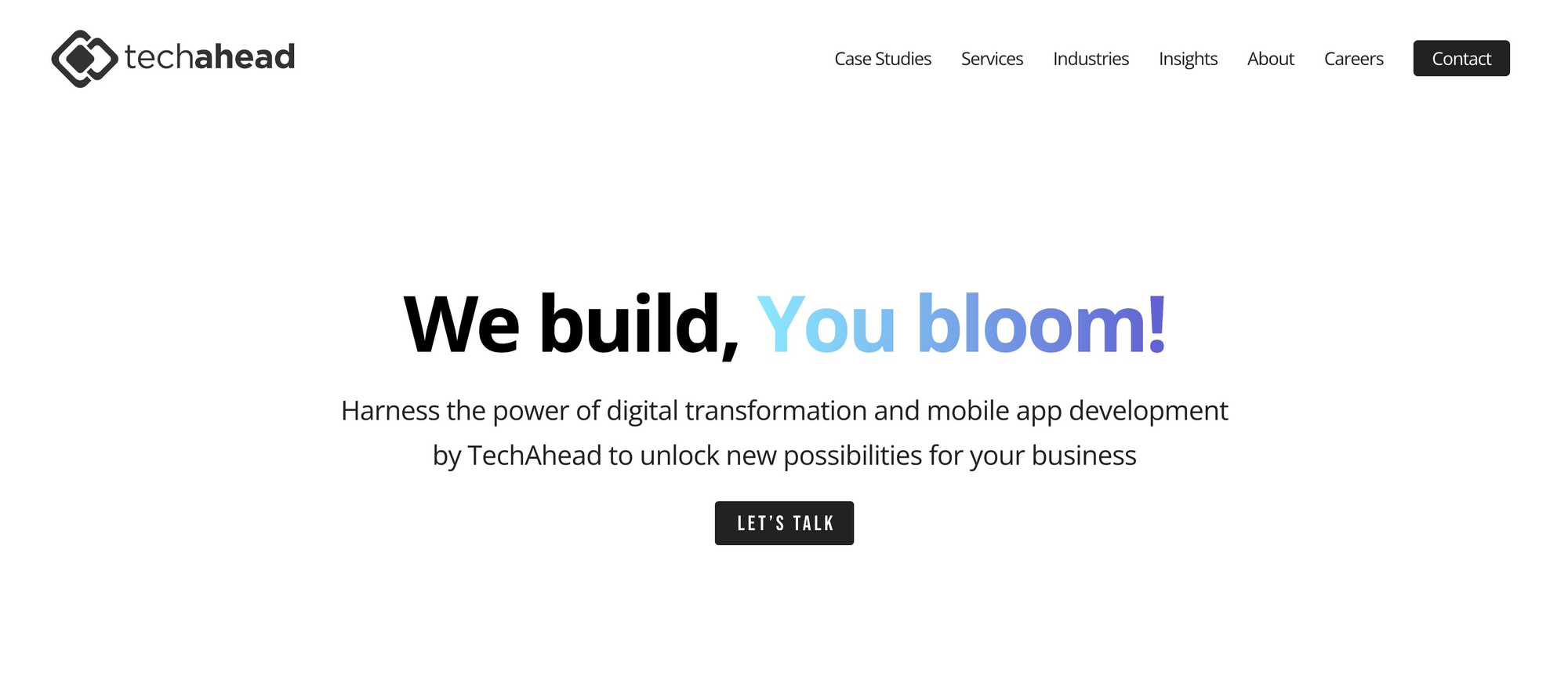 Operating since 2009, TechAhead is a Flutter app development company located in the US. They offer digital transformation solutions to their clients, primarily using Cloud and IoT technologies, with a strong emphasis on user-friendly mobile and web apps.
TechAhead mainly specializes in medical and wellness apps. If you are a small or medium-sized business seeking affordable Flutter development services, this company could be an optimal choice for you.
Website: https://www.techaheadcorp.com/
Location: Santa Monica, United States
Hourly rate: $25 - $49
Minimum project budget: $25 000
Clutch rating: 4.8
Industry focus: HealthCare, Business services, FinTech, Media, Real estate, eCommerce.
How to Choose the Best Company for Your Project?
Choosing the best Flutter app development company for your project is a crucial decision that will impact the success of your app. But with so many options available, how do you decide? Below, we've outlined five key steps to help you make an informed choice.
Define your requirements
Before you start your search, be clear about what you want to achieve with your app. What are your business goals? What features must your app have? What problem should it solve for your users? By defining your requirements in detail, you'll be able to communicate more effectively with potential development companies, allowing them to offer you a more accurate proposal.
Define your budget
Flutter app development can vary greatly in cost, depending on your project's complexity and the company you choose. Set a realistic budget considering all potential costs - app development, maintenance, marketing, and future updates. This will help you shortlist companies that offer services within your budget range.
Review their portfolio
A company's portfolio can give you a lot of insight into its capabilities and specialties. Look for projects that are similar to yours. This can give you an idea of their experience in your industry or with the type of app you want to develop. Additionally, check the quality of the apps they've developed and see if they match your expectations.
Check client reviews and testimonials
Reviews from past clients can provide a wealth of information about a company's professionalism, communication, and problem-solving skills. Look for reviews on third-party platforms like Clutch and GoodFirms for unbiased opinions. Also, consider how the company responds to feedback - it can be a good indicator of their customer service.
Consider post-development support
App development doesn't end with the launch. There will be updates, bug fixes, and maybe even new features to add in the future. Ensure the company you choose offers reliable post-development support. This will ensure your app continues to perform well and stay updated with evolving market trends and user needs.
Wrapping Things Up
The demand for Flutter app development services continues to surge in 2023. This comprehensive list of the top 10 Flutter app development companies will help streamline your search for the ideal development partner. Remember to consider all aspects of your project and specific needs when making your decision.
Finally, keep in mind that a successful app development project is a result of collaboration, understanding, and mutual respect between you and your development partner. Choose wisely, and your Flutter application will surely be a success.
Stay tuned to our blog for more insights on Flutter and other app development trends. And for more information about our flutter app development services, don't hesitate to contact us.